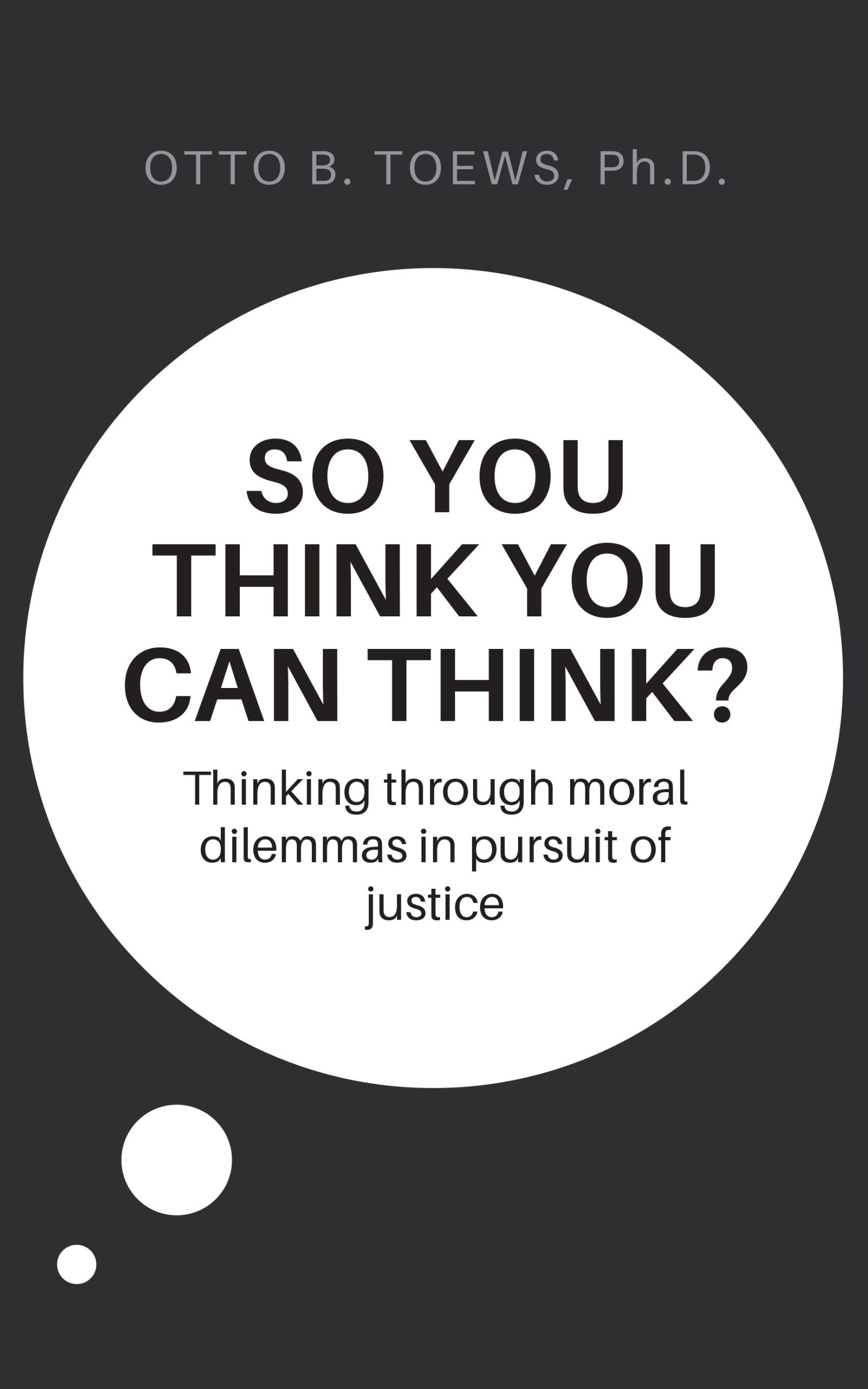 Category: Business & Economics, Social Science,
So You Think You Can Think?
Thinking through moral dilemmas in pursuit of justice
By: Otto Toews, Ph.D.
$2.99 – $14.99
About the Book
In our complex world, how can we learn to think through moral dilemmas in the pursuit of justice? How do the words we associate with morality impact our understanding and application of it? In short, how can we enact equal measures of fairness among family members, friends, and strangers? These are the troubling questions that guide Dr. Otto Toews as he critically engages with the language of morality and uncovers what is lacking in our conversations about fairness. Using a Principled Thinking Model for resolving everyday moral dilemmas, Toews identifies five basic categories that are necessary for moral thinking: duty, rights, motive, desert, and justice. Combining this research with Nel Nodding's seminal work on caring, Toews concludes that while it is vital that we practice thinking through moral dilemmas, the key to attaining universal justice and fairness lies in our sense of fellow feeling, or empathy. Toews argues that without the urgency and energy prompted by a sense of concern for others, thinking through moral dilemmas will remain insufficient in fostering an ethical world.
Throughout the book, Toews augments his research by providing hypothetical scenarios involving two teachers, Bill and Mae. They engage in spirited debates over how duty, rights, motive, desert, and justice apply to issues such as education, cyber bullying, mental illness, reconciliation, and more. Again and again, Bill and Mae are caught up by the power of empathy, demonstrating the urgent need to care for others. It is through their dialogues that Toews has designed a brilliant way for us to witness moral thinking in action, giving us the language we need to navigate it, and preparing us for the countless types of conflicts we encounter every day.
About the Author
Dr. Otto Toews is a former teacher, school administrator, curriculum assistant superintendent, university lecturer, software developer, and digital courseware developer. Much of his work has centered on his longstanding fascination with the nature of language and morality. During his graduate studies—as well as through many practical experiences—he developed a Principled Thinking Model, which offers a way for people to resolve moral dilemmas through language and reflection. In collaboration with Apple Canada, he applied his keen interest in the use of technology for teaching and learning. He also partnered with Microsoft to create user-friendly digital learning resources aimed at teaching students "to think as you write, and write as you think." In 1999, he received the Dr. John M. Brown Award for his outstanding contribution to teacher education in Manitoba. He has published his thinking and writing strategies on his website, www.sponsoravillage.ca, which has received over three million hits to date. He currently resides in Vancouver, with his wife, Joan McCreath. They both enjoy reading, writing, and engaging in non-profit organizations that address the needs of the less fortunate.
Read More