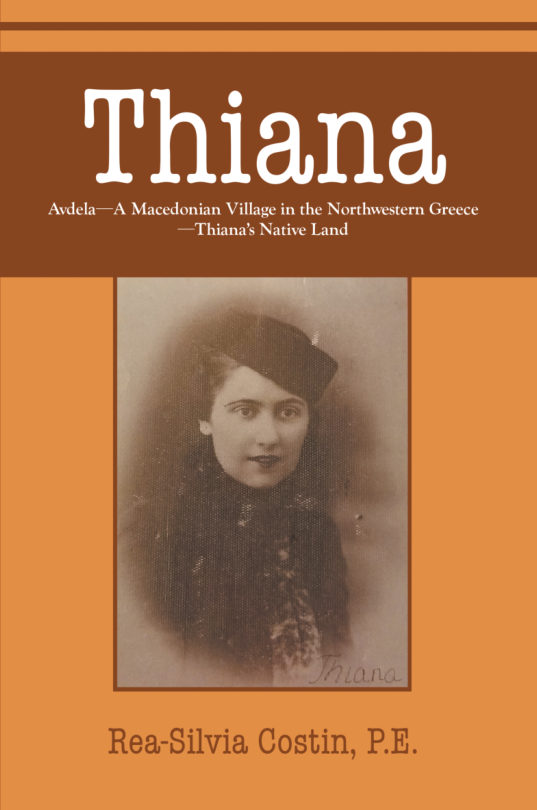 Category: Biographies & Memoirs,
Thiana
AVDELA-A Macedonian Village in the Northwestern Greece-Thiana's Native Land
By: Rea-Silvia Costin
$3.99 – $8.23
About the Book
Thiana is the first book in a trilogy that spans the lives of three generations of strong women, the author's grandmother Calliope, the author's mother Thiana, and the author herself.
Thiana depicts Calliope's and Thiana's struggles with life's adversities, and Thiana's courage and determination in forging a better life for herself and her family.
Thiana, the book's heroine, grows through life experiences, her character steels with every adversity life throws in her path.
The narrative begins around 1920 in a remote mountain village in the northwestern Greece called Avdela, and moves to Salonika and Romania, encompassing the events up to, during, and after Word War II, including the closing of the Iron Curtain.
The book depicts picturesque settings in the northwestern Greece and the customs and language of the Macedonian people.
About the Author
The need to write came into my life unexpectedly and with such force that it left me no choice but to follow.
I published my first book Short Stories: The Story of a Refugee with Vantage Press in 1997. In 2003, I published the first book of a trilogy, Thiana-AVDELA-A Macedonian Village in the Northwestern Greece: Thiana's Native Land, and in 2004 I published the second volume of the trilogy ATHENS with iUniverse. American Publishing Company has published the third book of the trilogy America-The Final Destination on February 2006.
My poetry is published in The Best Poems and Poets of 2001, 2002, 2003, and 2005, The Theatre of the Mind, and The Celebrations of Honors as well as Who's Who in Poetry 2004 and 2005, editions by the International Library of Poetry. In May 2002, I obtained my Laureate Certificate from the International Library of Poets. I am the recipient of the Editor's Choice Award, 2002, 2003, 2005, from the poetry.com site as well as the President's Award for Excellence in Literature from the National Authors Registry.
In January 2019, I was presented with the "Albert Nelson Lifetime Achievement Award" by Marquis Who's Who for my work as a professional engineer and author.
My first poetry book Pearls on a String was published by Publish America on December 18, 2006, and the second volume Pearls on a String: Love songs-Volume II was published by Publish America on June 29, 2009.
Publish America has also published my book Different Tales: A Children's Book in 2010.
I was born in Greece and raised in Romania. I am a Professional Engineer.
What does poetry mean to me?
It's a way to express deep feelings, to share with others my philosophy and understanding of life, and to give testimony of my faith in God.
Read More