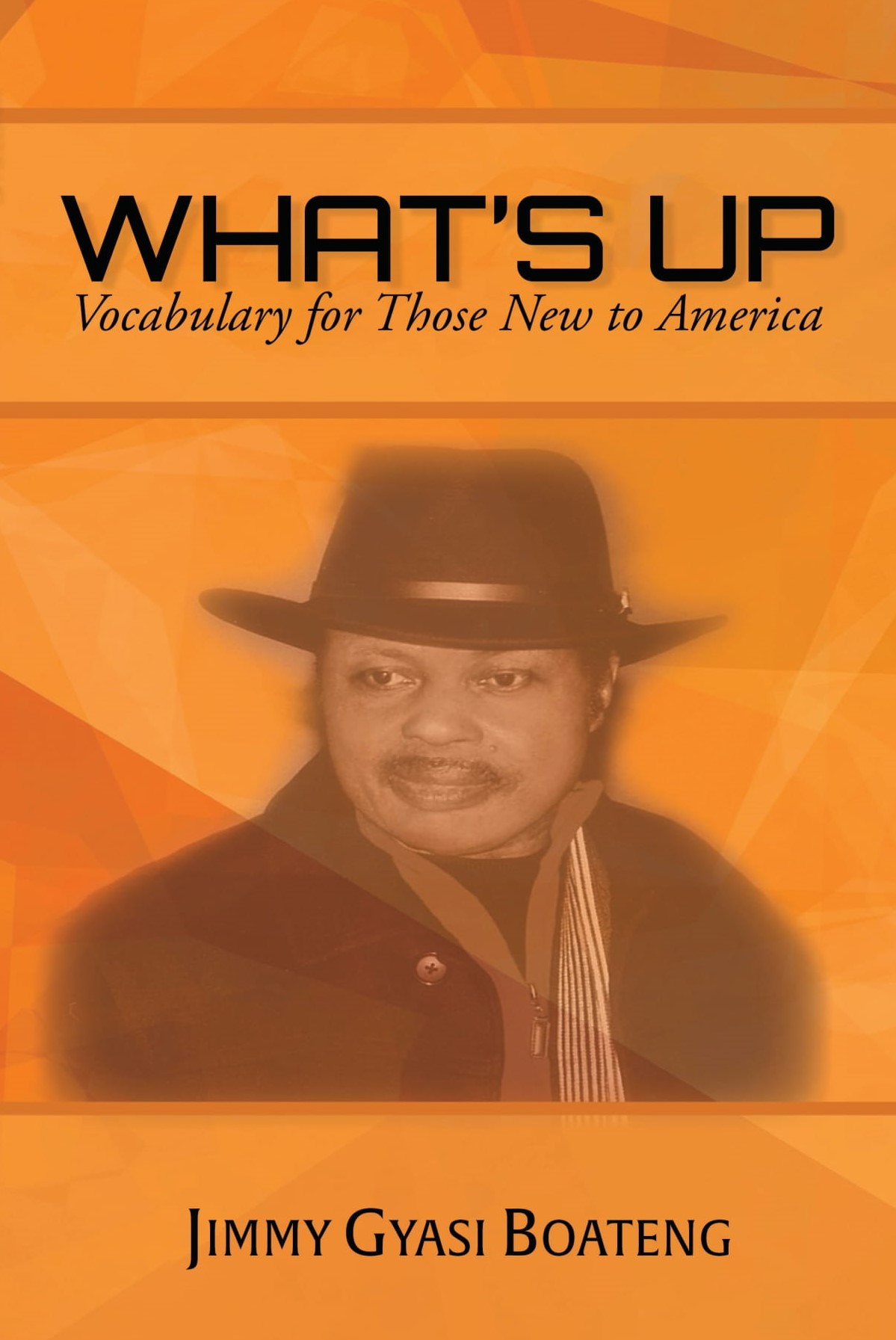 What's Up
Vocabulary for Those New to America
By: Jimmy Gyasi Boateng
$2.99 – $7.95
About the Book
The idea behind this book is to make the reader aware of slang expressions used by typical Americans. Although some people might have attended institutions of higher education in their native countries, when they come to America, often they are baffled or confused by American slang, whether consciously or unconsciously. Most of my friends who went to college before coming to America also have problems because they don't let go of their understanding of the local American lingo.
Even though I came from a country—Ghana—whose official language is English, (we were colonized by the British), I had a very hard time understanding the Americans' use of the informal English language. Statements like, "Are you nuts?" meant a whole different thing to me until after I had been here for a while and then I began to decipher what the subtle meanings of these slang expressions are when it comes to the American dialect.
I began to compile these American expressions and put them together in book form so that people who are new to this country might appreciate and understand what they mean. It is my hope that this small book will help both Americans and new immigrants alike, basically by learning these expressions, using them when appropriate, and knowing when not to use expressions that may "rub people in America the wrong way.
About the Author
Jimmy Gyasi Boateng was born and raised in Bonwire, the historical Kente cloth town of Ghana. I attended Phillips Commercial College in Kumasi, Ghana and after graduation came to Accra, the capital of Ghana, to find a job. I was fortunate enough to be hired by the Parliament House, National Assembly, as a clerical officer, where I worked with Dr. Kwame Nkrumah, the first President of Ghana.
When the Nkrumah administration was overthrown, I continued to work with the second government of Ghana, led by Dr. Kofi Busia and his administration. I remained in this employment with Parliament for ten years before taking a new position with the State Insurance Corporation of Ghana as a librarian.
I came to the United States in 1978 and worked in several factories and institutions, among them Microfibres Corporation. I was chosen as the Associate of the Year in 1996. I have been a loyal employee of the company for twenty-five years.
In addition to working with Microfibres, I have worked for the Massachusetts judiciary for eight years as an interpreter through Inlingua of Boston, and I continue to work with Team Ops of the New England Patriots Football Team at Gillette Stadium in Foxboro, Massachusetts.
I continued my education with a senior high school equivalency diploma from Cranston West, Cranston, Rhode Island, and continued at Rhode Island Trade Shops School, where I graduated in 1982. I furthered my education at Genesis Center with a diploma in Culinary Arts in 2002. Additionally, I hold a certificate from the New England Gerontology Academy.
Read More