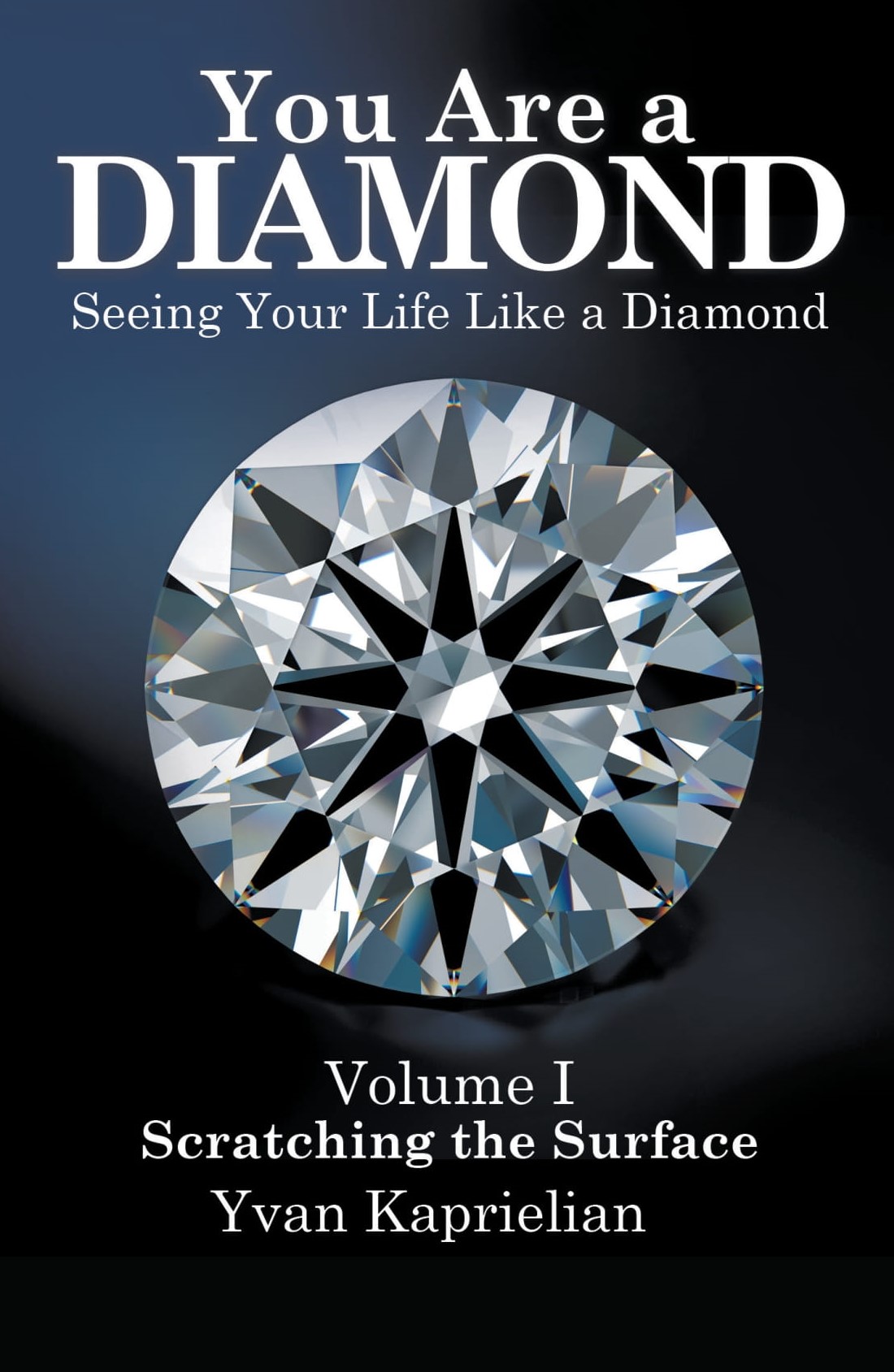 You Are a Diamond: Seeing Your Life Like a Diamond
Volume I: Scratching the Surface
By: Yvan Kaprielian
$2.99 – $13.06
About the Book
Could Diamonds be more than just engagement rings, wedding bands or birthday gifts? Could there be more to Diamonds than just a symbol of financial and social status? Could a Diamond be a message, an instrument of the Divine? What if there is a correlation between the reflection of light inside the Diamond and our thought process? Could a Diamond be more than just a girl's best friend?
An introduction to the journey of a diamond from the depths of the earth all the way to your finger, paralleled to the depth of your Soul all the way into the palm of your hands. Learn what the Diamond can teach us about ourselves, our mind, our Soul, our hearts and our bodies. A fun and educational conversation packed with real life experiences and profound spiritual meaning explained in simple terms with realistic and applicable suggestions.
Learn how a Diamond can help you understand yourself and improve your life right now! Learn how a simple meditation can help quiet down the chatter of your mind and start hearing the whispers of your Soul. Start scratching the surface of this mysterious crystal called Diamond and become the master creator, the captain of your ship, and stop being a victim of the winds of circumstances.
About the Author
Yvan Kaprielian was born and raised in Paris, France with an Armenian Heritage and moved to the United States in 1988. After graduating High School in 1991, with a privilege of having a father in the business, Yvan decided to venture into the Diamond and Jewelry Industry. He grasped the opportunity to learn and capture the secrets of the trade. At the age of 17 he started selling diamonds, engagement and anniversary jewelry, colored gemstones, and fine watches. He seized every moment to examine and study every diamond that was in his sight. Reading gem books, trade publications and taking courses on diamonds became routine. In 1993, he completed his first Diamond Course from GIA, Gemological Institute of America. This was the inception of the destined relationship between Yvan and diamonds.
His desire to acquire more knowledge on diamonds increasing dramatically. In 1994, Yvan decided to leave the retail world and open a factory in the heart of the Diamond District in New York City. This lead to excelling in designing, diamond setting, all aspects of bench work, polishing and diamond/gemstone wholesaling. Whilst developing the art of jewelry manufacturing he discovered his innate talent and true passion – Diamonds. Yvan's theory was that there is a story behind every piece of jewelry, especially with diamonds. He realized that wearing jewelry is a form of art that expresses each individual's personality. He thrives when he matches a magnificent piece of jewelry with someone, as a new story is born.
After earring his Graduate Gemology degree from GIA, he asked himself: "Could there be more to diamonds than just a financial and social status symbol? What if there was a story before the story?". That's when obsession started knocking on the door of his mind. He started digging deeper and deeper in the mine of his Soul searching for answers and seeking to understand. The day he was ready and truly decided to open this door there stood a teacher. A teacher named Master Choa Kok Sui. He became his guiding light in the obscure and lonely path of self-discovery. Devotion, purification, meditation, self-study and helping others became the new routine.
As his questions were answered, new questions arose. Today, after twenty-six years in the diamond industry and sixteen years of self-discovery, self-analysis, inner reflection and meditation Yvan came to the conclusion that there definitely is an undeniable parallel between diamonds and humans. Since this discovery, fueled by his new passion, Yvan's mission is to share this realization, this message with the world.
Read More